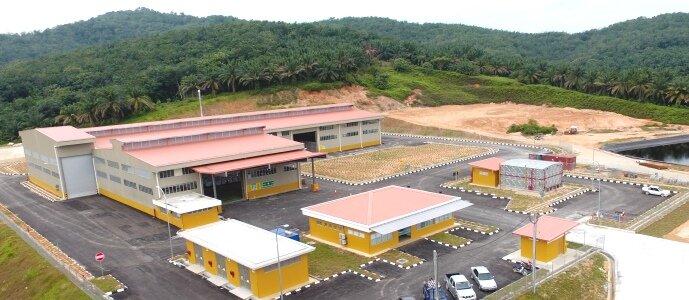 AMITA BERJAYA Sustainable Resource Management Centre|Malaysia Scheduled Waste 100% recycling plant
To fulfill Joint Venture's potential by Reliability of BERJAYA Group & Experiences / Technology of AMITA Corporation
AMITA BERJAYA Sustainable Resource Management Centre is 100% recycling plant founded by AMITA BERJAYA SDN. BHD. (AMITA BERJAYA) which is a Joint Venture Company funded by the AMITA Group and Berjaya Group. We are providing services to wider range of local and Japanese companies throughout Malaysia since May 2017.
AMITA BERJAYA provides Japanese Standard waste management services in Malaysia where the waste management risk is getting increased year by year.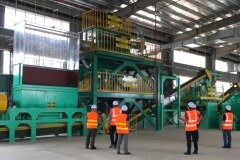 In 2015, an exclusive contract of Scheduled Waste (*) treatment between one company and the national government was expired, and the market has been opened. However, quite a few companies are providing recycling services based on highly versatile technology & know-how in Malaysia. In addition, nowadays, the problem of illegal dumping and inappropriate disposal has become obvious and the risk of the waste management is getting increased. In order to solve these problems, AMITA BERJAYA provides Japanese standard waste management services which can achieve 100% recycling and high transparency. (Photo shows the inside of AMITA BERJAYA Sustainable Resource Management Centre)
Business outline
AMITA BERJAYA is able to receive 14 types of different Scheduled Waste codes and produce ARM(Alternative Raw Materials) and AF(Alternative Fuel) for cement industry in Malaysia, which is homogeneous and stable by taking advantage of our original blending technology and system.
Main Receivable wastes
Sludge, Incineration ash, Foundry sand, Slag, Coal ash, Spent catalyst, Abrasive powder, Cullet (glass scrap) etc
* Some kinds of hazardous and toxic wastes are categorized as "Scheduled Waste" in Malaysia. Please contact us if you have any inquiries.
Address

Bukit Tagar, Bestari Jaya, Selangor Darul Ehsan, Malaysia TEL:03-5296-9378 FAX:03-5296-9380  (The contact address of the AMITA CORPORATION International Business Team)
About AMITA BERJAYA
AMITA BERJAYA corporate information ❯
AESS…AMITA ENVIRONMENTAL STRATEGIC SUPPORT (MALAYSIA) SDN. BHD. is a wholly owned AMITA CORPORATION local subsidiary. (AMITA BERJAYA is a joint venture between AESS and BERJAYA ENVIRO HOLDINGS SDN. BHD.)

Available languages: English, Japanese, Korean, Chinese and Russian