One of the earliest Japanese corporate signatories to the UN Global Compact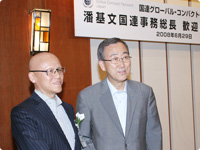 The United Nations Global Compact (UNGC) is a non-binding initiative launched in 2000 on the recommendation of then UN Secretary-General Kofi Annan to encourage businesses around the world to implement universal sustainability principles. In support of the Ten Principles of the UNGC, AMITA HOLDINGS signed it in June 2002, becoming the fourth Japanese company to do so. The AMITA Group has since embraced the Ten Principles into its corporate strategy and has been publishing a Communication on Progress report annually to highlight the progress the Group has made in implementing the Ten Principles in its business operations.
(Pictured) KUMANO Eisuke (left), Chairman and CEO of AMITA HOLDINGS, shakes hands with then UN Secretary-General Ban Ki-moon at a reception held in the latter's honor in Tokyo on June 29, 2008. (Photo courtesy of the Global Compact Network Japan)
AMITA Group's Mission and the UN Global Compact
Since its founding in 1977, the AMITA Group has been at the forefront of providing wide-ranging environmental solutions on a commercial basis. Its mission is perfectly in line with the Ten Principles of the UNGC. The AMITA Group is one of the few businesses poised to promote the spirit of the UNGC in their primary business operations. This means that the AMITA Group is in a good position to play a leading role in pushing the UNGC forward in Japan.
AMITA HOLDINGS is a proud member of the Global Compact Network Japan (GCNJ), which was established on April 1, 2008, to help senior executives of participating companies and organizations have a deeper understanding of the value of promoting corporate social responsibility (CSR). We served on the GCNJ executive board until May 20, 2013. Today, we assist the GCNJ in stepping up its activities and signing up more corporate members, as well as in communicating to international stakeholders CSR achievements made by the Japanese corporate signatories to the UNGC, including ourselves.