Message from the CVO and CIOO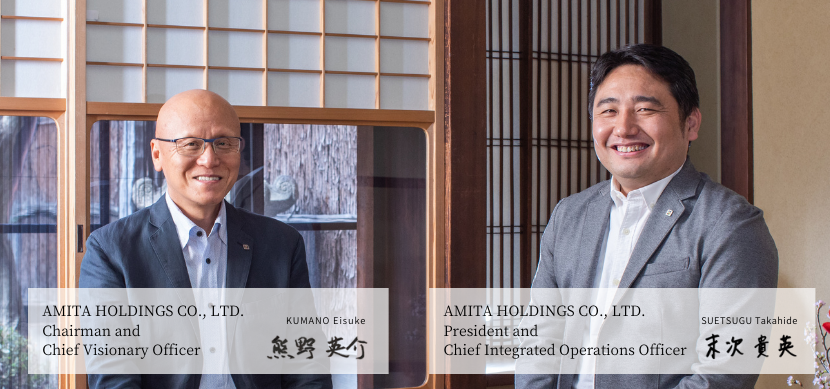 AMITA HOLDINGS CO., LTD. held its ordinary general meeting of shareholders for the 13th term on March 23, 2023, in which the appointment of seven directors, including two non-executive directors, was approved as proposed.
The new leadership is mandated to make the AMITA Group's operating foundation more robust and vigorously pursue new market opportunities. In the executive team, Eisuke Kumano, who serves as Chairman and Chief Visionary Officer, leads the Group's business development efforts in order to enhance its current and longer-term enterprise value, and nurtures and develops relationships with a wider range of current and future stakeholders. Takahide Suetsugu, who serves as President and Chief Integrated Operations Officer, oversees the Group's day-to-day business operations, develops its quantitative long-term growth strategy, and engages with investors, analysts, and financial institutions.

Amid the pervasive COVID-19 pandemic and the prolonged Russia-Ukraine conflict, the Group's consolidated business performance for the fiscal year ended December 31, 2022 (FY 2022), was better than that for the previous year, in terms of net sales*, operating profit, and ordinary profit. This was partly because revenue from the consulting and other high-margin services grew from the year before. Although the Group's annual financial performance failed to meet its initial guidance for the year, its operating profit margin was up from 10.9% to 12.6% year on year, and its equity capital ratio from 32.9% to 41.4%. The year-end dividend for FY 2022 is set at 3.00 yen per share, with a dividend payout ratio of 9.9%.
*Assuming that the same accounting standard applied to reporting net sales for FY 2021 and FY 2022
We believe that "ecosystem" is the defining word for the post-SDGs society. An ecosystem in the social context emulates a natural ecosystem and is characterized by its circular design that produces no waste, its pursuit of the best interests of the whole system that outweigh those of its parts, and its dynamic balance that maintains stability while constantly changing. An ecosystem social design and ecosystem-driven business management are the two key drivers for a sustainable future.

The AMITA Group launched several initiatives for ecosystem-driven business management in 2022, including entering into strategic partnerships with like-minded businesses and unveiling in November 2022 AMITA's Initiatives and Commitment to Creating an Ecosystem Society by 2030. During the January-March quarter of FY 2023, as part of implementing these long-term strategic initiatives, we split one of our subsidiaries into two entities to achieve greater organizational agility and operational excellence and established a subsidiary tasked with using digital solutions to visualize the circulation of resources, as well as the flow of people's thoughtfulness of others. Furthermore, we have started offering a shorter 32-hour workweek to employees so that they can work more productively to create value. For the rest of FY 2023, we intend to make additional strategic investments and partner with a broader range of companies to accelerate business development. We will keep you informed of progress along the way.

As the global community is at a critical crossroads today, the AMITA Group stays on top of fast-paced economic and social changes. The Group is committed to achieving an ecosystem society that upholds the dignity of human lives, by continuing to work closely with diverse stakeholders. We would much appreciate it if you would continue to provide support and blessing to this challenging but exciting endeavor.

Buying shares of AMITA HOLDINGS
■ Shares of AMITA HOLDINGS are not available for purchase on this website.
■ You need first to open an account with a brokerage firm. Consult with a physical or online broker about opening an account.
■ For more information about our shares, click this link to be redirected to the Nikkei Corporate Information site.