AMITA Group's Medium- and Long-Term Business Strategy
The AMITA Group developed and launched the Social Systems Design Business in 2021 to assist businesses and municipalities in achieving greater corporate and community sustainability. This was part of the Group's efforts to redesign industry and communities to achieve a sustainable future.
The Group intends to grow the Social Systems Design Business into one of its core business lines by 2030. In Phase 1, from 2021 through 2023, we will focus on laying the groundwork for the business by developing new service products to assist businesses and municipalities in their efforts to achieve greater sustainability. In Phase 2, from 2024 through 2026, we will continue to develop the market for the new business, and in Phase 3, from 2027 through 2029, we will expand the service offerings to accelerate the growth of the business into a solid revenue and profit source for the Group.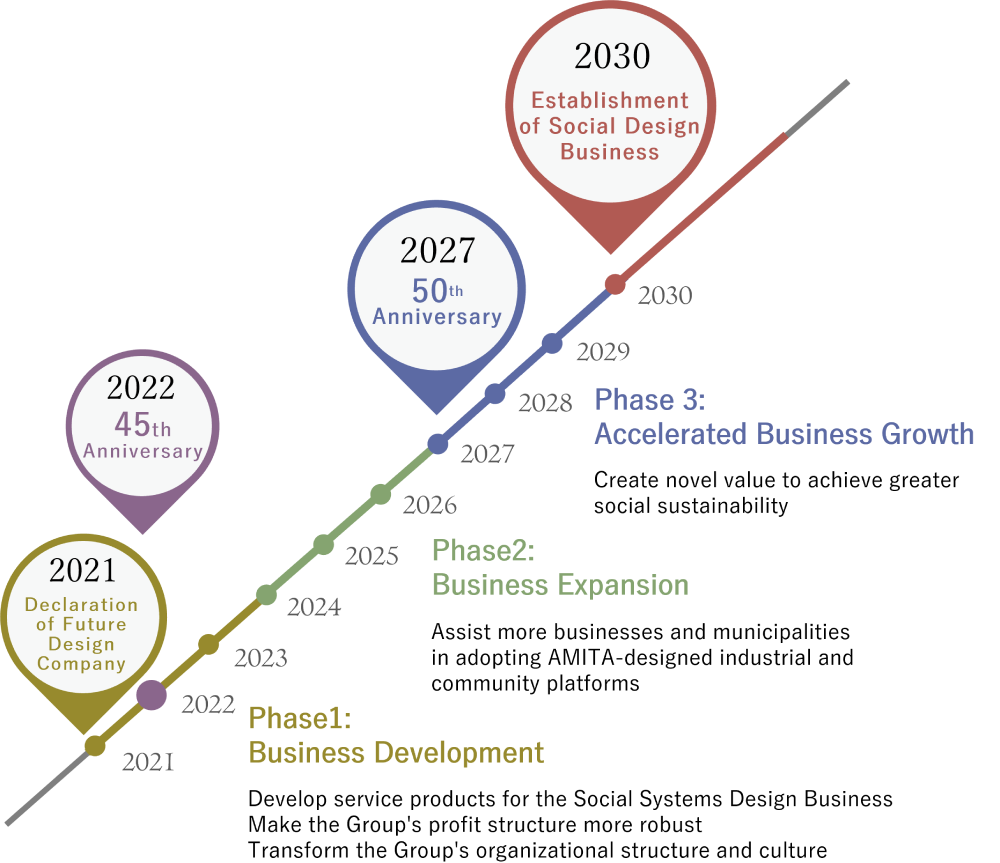 Key Concept and Initiatives behind the Medium-Term Management Plan for FY 2022-2024
The three-year period from 2022 through 2024 covers the second and third years of Phase 1 and the first year of Phase 2. During this period, we will focus on developing and offering the following services and solutions to meet the fast-growing need to achieve greater corporate and community sustainability among businesses and municipalities. In fall 2022, we will unveil our long-term vision for establishing the Social Systems Design Business.
1) Establish business to assist businesses in developing and implementing a transition strategy for greater corporate sustainability
Expand the scope of the Cyano Project, a program for developing circular business models
Put the business of Codo Advisory, a joint venture between AMITA and MCP Japan Holdings, on a solid footing
Establish a collaborative network for a circular industry
2) Develop business to assist municipalities in developing and implementing a transition strategy for greater community sustainability
Expand MEGURU STATION® into more communities
Develop and offer a regional decarbonization program
Develop and prepare to implement nationally a social infrastructure in line with Action 1)-3, designed to circulate tangibles, information, and people's thoughtfulness to others
3) Expand business and invest sensibly in growth categories
Invest in the silicon slurry business to maintain its strong momentum
Expand and seek new markets for the environmental certification services and the Malaysian operations
Invest in business development related to Key Initiatives 1) and 2)
4) Make the Group's operating foundation more robust as a basis for implementing Key Initiatives 1), 2), and 3)
Seek strategic partnerships with other companies
Redefine and reshape the Group's corporate culture and seek stronger relationships with stakeholders
Establish a system for progressively increasing the Group's useful corporate resources
Financial Targets for FY 2022-2024
(Announced February 2022)
(In millions of yen; amounts rounded down to the nearest million yen)
| | | | |
| --- | --- | --- | --- |
| | FY 2022 | FY 2023 | FY 2024 |
| Net sales | 5,249 | 5,701 | 6,385 |
| Operating profit | 803 | 818 | 1,189 |
| Ordinary profit | 892 | 939 | 1,377 |
| Profit | 604 | 600 | 886 |
Note: Effective at the beginning of the fiscal year ending December 31, 2022, the Company has adopted the Accounting Standard for Revenue Recognition (ASBJ Statement No. 29) in its financial reporting. These numbers are presented on the basis of this standard. The application of this standard affects the presented amount of net sales, but not of profits.
FY 2022
The Group projects the operating profit for FY 2022 to be up 40% year on year to 803 million yen, resulting from the planned expansion of the Cyano Project and more streamlined sales and business operations.
After-tax profit for FY 2022 is projected to be down from FY 2021, when the Group earned a better-than-expected annual profit as a result of the recovery of tax expenses associated with a merger between subsidiaries.
FY 2023
The Group projects a flat operating profit and after-tax profit for FY 2023, reflecting an increase in investment in talent development and business in growth categories.
FY 2024
The Group expects the further expansion of the Cyano Project and the economic fruit from investment and service development to bolster its operating profit by 50% year on year to 1,189 million yen and its after-tax profit by 50% to 886 million yen for FY 2024.
(The next update is scheduled for February 2023.)